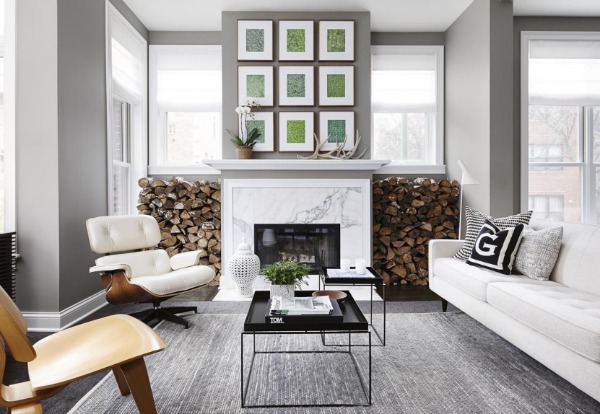 Three Interior Design Rules To Keep In Mind
THREE INTERIOR DESIGN RULES THAT CAN HELP YOU BALANCE OUT JUST ABOUT ANY DESIGN.
THE 3/3 VERTICAL RULE
The newest rule is, the 3/3 vertical courtesy of designer Mark McCauley, who outlined the concept in his book, Color Therapy at Home: Real-Life Solutions for Adding Color to Your Life. Like many other current trends, this rule builds on our persistent desire to assimilate the great outdoors with interior aesthetics.
The concept works like this: if nature were a framed viewpoint, the darkest colors would be found towards the ground. (Think dark grasses, stones, and mud.) Meanwhile, the medium tones of trees and plant life would be in the middle. Lightly-toned skies would round out the top of the frame.
THE 10-30-60 RULE
When you have decided which colors you would like to use, it's time to determine which role they will play in your design. That's where the 10-30-60 rule comes in. With this rule, you will end up choosing a dominant shade, a secondary shade, and an accent color.
As the name of this rule suggests, your dominant shade will cover about 60% of the room. Since it plays such a large role in your design, you may want this to be your most neutral choice. The dominant shade is a good choice for things like your wall color and floor coverings. Then, your secondary shade can be a bit bolder and is usually fit for furniture. Finally, your accent color is your boldest choice and can be found in accessories.
THE RULE OF THREES
After you have the colors under control, it's time to look at your accessories. We have talked about the importance of purposefully styling surfaces and grouping accent pieces before, but if you take one tip away from this, it should be **when in doubt, follow the rule of three**.
Odd-numbered groupings create more visual interest than even numbered groupings. In particular, three seems to be the ideal number for a grouping as opposed to one, five, or even seven because the former might feel too simple while the latter two run the risk of appearing overly cluttered.
When selecting items to go in your grouping, you want to ensure that they're different enough to create visual interest while still having a common thread to tie them together.