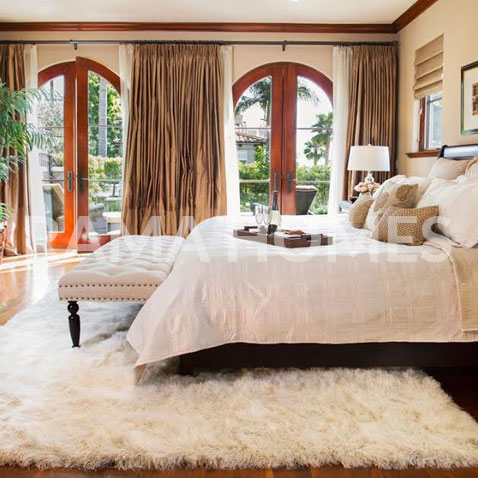 Master Bedroom Color Guide
The master bedroom is the most intimate and personal space in your house. It's the one place you want your personality felt, hence choosing the right wall colors is very important, but remember to also follow a few guidelines.
One major advantage you have is that most master bedrooms are larger than the other rooms. There are a few areas to work with, say the sitting or reading area, the bathroom, the balcony, the dresser, all this are areas that don not necessarily need different wall colors but could work wonders when the different colors complement each other.
If your master bedroom includes a bathroom and a dressing or sitting area, plan your colors for all of those spaces as a whole. That doesn't mean the paint colors in your bedroom and bathroom need to match, but they should complement one another.
Things To Consider.
What mood do you want to set?
Most people want this space to be a peaceful retreat, with soothing colors. But that doesn't mean that bright or dark colors have no place. You can use a palette of neutral shades to create a look that leaves room for pops of color in your bed linens, pillows, lamps and other accessories. A neutral palette also works well because you can change out your accessories to suit your mood or to decorate for the season.
What's your favorite color?
Is it green? Green is one of the best colors for bedrooms, because it has elements of both warm and cool, and there is a wide range of tints from which to choose.
If red is your favorite color, you can use it in the bedroom, but use caution. Red stimulates, and too much of it can be overwhelming. Choose a muted tint, or try using red on just one wall, either behind your headboard or on a wall that has large windows, to break up the intense color. Be careful about using bare wood furniture in a room with pure red walls, as the two can clash. Better to go with painted pieces.
What of color blue?
Cool and soothing blues are a natural for the bedroom. In traditional bedrooms, deeper shades of blue create a stately backdrop for antiques and classic furnishings, as well as artwork.
Or is it black?
Even black can work in your master bedroom, but be sure to balance it with white furnishings, and add color with bright touches such as yellow or turquoise.